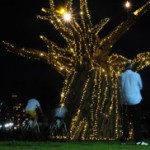 As countries debate a climate changing deal to save the planet, a new satellite-based survey released by the UN Food and Agriculture Organization (FAO) shows we lost forest cover the size of 10 football stadiums per minute in the 15 years between 1990 and 2005.
The good news is that the net forest loss is less than "we had estimated through data collated from countries", said Eduardo Rojas-Briales, FAO Assistant Director-General of Forestry. "In a sense, this is our first independent data".
The agency had to depend on information put together by countries, but lack of capacity to conduct surveys in some meant they relied on old data.
In 2005, the world's forested area was 3.69 billion hectares, or 30 percent of the global land area, which means the world has lost 72.9 million hectares, or 32 percent less than the previously estimated figure of 107.4 million hectares.
It has taken the FAO five years to perfect the process of being able to use the data produced by global remote sensing, Rojas-Briales says the agency hopes to have the 2010 data ready for release in 2012.
He pointed out that there were certain shortcomings in the data generated by remote sensing: for instance, it is unable to pick up green cover in the South American savannah during the dry season. The satellite images relay different signals for the various types of land cover, "but we have records of the grassland cover, which we factored in".
The highest rate of forest land converted to other unspecified uses during the 15-year period occurred in South America, which lost six percent by 2005, followed by Africa with a five percent loss.
However, Asia was showing net gains with an increase of four percent in forest cover by 2005. "The Asian countries have lessons to share with the other continents, which, despite their very limited land cover and huge populations, have done well," said Rojas-Briales.
Forest experts like Sten Nilsson, former Acting Director of The International Institute for Applied Systems Analysis (IIASA) in Vienna, says the high afforestation rate in Asia is driven mainly by China.
REDD+
Deforestation contributes between 12 percent and 20 percent of the world's annual greenhouse gas emissions – about the same as the transport sector, according to the Intergovernmental Panel on Climate Change (IPCC).
The new data will feed into "reducing emissions from deforestation and degradation" or REDD+, a mechanism of the UN Framework Convention on Climate Change (UNFCCC) that gives countries incentives to leave forests standing process. [See IRIN briefing on REDD+]
Accurate data from FAO could prompt agreement on how carbon emissions from deforestation will be calculated – one of three sticking points hampering progress on REDD+.
This can be "calculated in two different ways: one focused on total carbon dioxide emitted due to deforestation, not counting any uptake by trees that continue to grow," Michelle Kovacevic, who writes for the Centre for International Forestry Research, pointed out in a recent blog.
Or it can be calculated as "the net balance between carbon dioxide that is currently being emitted by deforestation and forest degradation, and which is being taken up by the forests. While this might seem like an arcane difference, it affects how you set up accounting systems, and how you reward emissions reductions."
The other outstanding issues on REDD+ are markets and safeguards. Countries are split over a choice of three options: raising all the money through carbon markets, rejecting the markets, or adopting a mix of both.
Alistair Graham of Humane Society International, an Australia-based environmental NGO, told IRIN in an interview earlier in 2011 that the safeguards, such as the one protecting the rights of forest communities, were included only as "advice – they need to be [written] in as legally binding obligations, [but] whether this is a done deal or still outstanding is unclear."
IRIN News
jk/he
Theme (s): Economy, Environment, Natural Disasters,
[This report does not necessarily reflect the views of the United Nations]