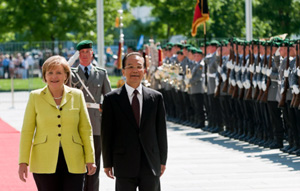 Chinese Prime Minister Wen Jiabao was Tuesday received with military honours by Chancellor Angela Merkel at the Federal chancellery in Berlin.
On the third and final leg of his European tour, the Chinese leader was accompanied by a large trade delegation.
Trade and economic issues dominated the agenda in his talks with Chancellor Merkel and as many as 10 members of her cabinet.
In a written statement on his arrival Monday night, Wen said that China and Germany have increased mutual understanding and trust, and enhanced mutually beneficial co-operation in recent years, particularly in the process of coping with the global financial crisis.
Premier Wen added that China-Germany relations are facing new opportunities for development.
Earlier Tuesday, Wen co-chaired the first China-Germany inter-government consultation together with German Chancellor Angela Merkel and met with German President Christian Wulff.
During talks with President Wulff the two leaders agreed to further develop bilateral ties.
Wen, who was on a two-day visit to Germany (June 27-28), said the success of the first round of China-Germany inter-governmental consultation fully testified that bilateral relations between the two countries are all-round.
China is ready to strengthen high-level contact with Germany, bring the existing dialogue michanisms into full play, objectively treat and properly handle disputes in a bid to promote a healthy, stable and sustained development of bilateral ties, Wen said.
Wulff, for his part, said China's rapid development brings opportunities for Germany and the whole world.
Germany is willing to work with China to make further development in their ties, the president said.
Earlier in his address entitled "Work in Partnership for Common Development" at the Sixth Chinese-German Forum for Economic and Technological Cooperation, Wen said the Chinese and German economies were highly complementary, and both had maintained sound growth.
"It is therefore fully possible for our business relations to enter a new stage of growth. The reason that I have brought with me a big government delegation and a large business delegation is to deepen our practical cooperation in all fields. We not only hope to sign more business agreements with German companies, but also hope to establish a governmental mechanism for consultation and coordination with Germany to institutionalize our consultations.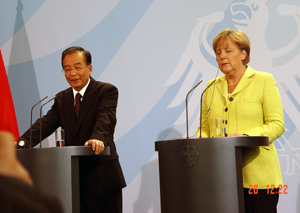 He called for the two countries to expand trade, encourage two-way investment strengthen technological exchanges and cooperation, expand cooperation on new energy, energy conservation and environmental protection.
Wen observed that China and Germany have much to benefit from co-operation in developing renewable energy and improving energy efficiency.
The Chinese Premier told the conference that the two countries should increase co-operation between small and medium-sized enterprises (SMEs).
He announced that China would set up a two billion euro special loan to support such co-operation.
"We will leverage the respective strengths of Chinese and German SMEs in capital, technology, R&D, human resources and market to promote common development."
By Mellisa Sheriddan, ANA Diplomatic Correspondent &
Musah Ibrahim Musah