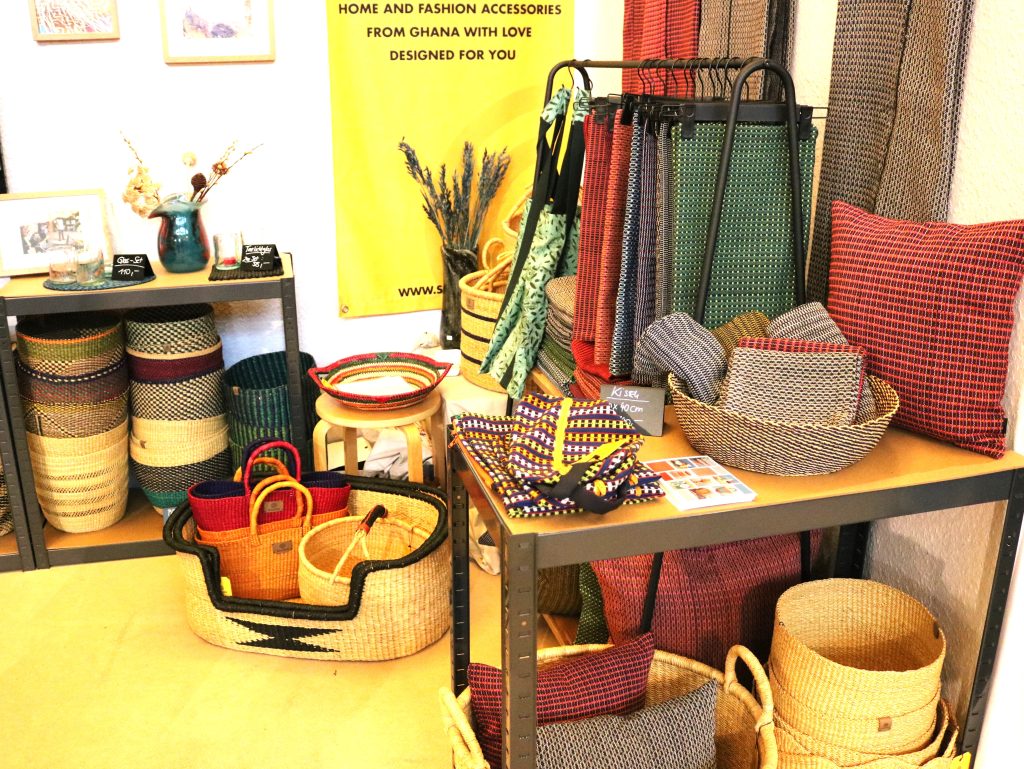 Handcrafted accessories by SOLOKO Made in Ghana/Photo: AfricaNewsAnalysis
Berlin, 14 November 2023
The 61st Bazaar Berlin ended on Sunday with a record 21 percent increase in visitors compared to the previous year, according to the organizers.
The handicrafts ambience attracted a total of 430 exhibitors from 56 countries each showcasing masterful handicrafts in the exhibition halls.
Chairs by AFRETNA designed by BISMARK, a Kumasi-born resident of Dakar, Senegal/Photo: AfricaNewsAnalysis
Exhibitors such as Soloko and ASIGE from Ghana presented their wares in the form of interior decorations and handwoven baskets.
Baskets by ASIGE handcrafted in Ghana/Photo: AfricaNewsAnalysis
A total of over 35,000 visitors took the opportunity to acquire gifts that tells special stories from over 430 exhibitors from across the globe.
Bazaar Berlin is like a tour around the world under one roof. Whether it is baskets from Ghana, handicrafts from Mali, handmade pullovers from Peruvian alpaca wool to handwoven silk scarves from India or sculptures from Benin, one finds the whole world at Bazaar Berlin.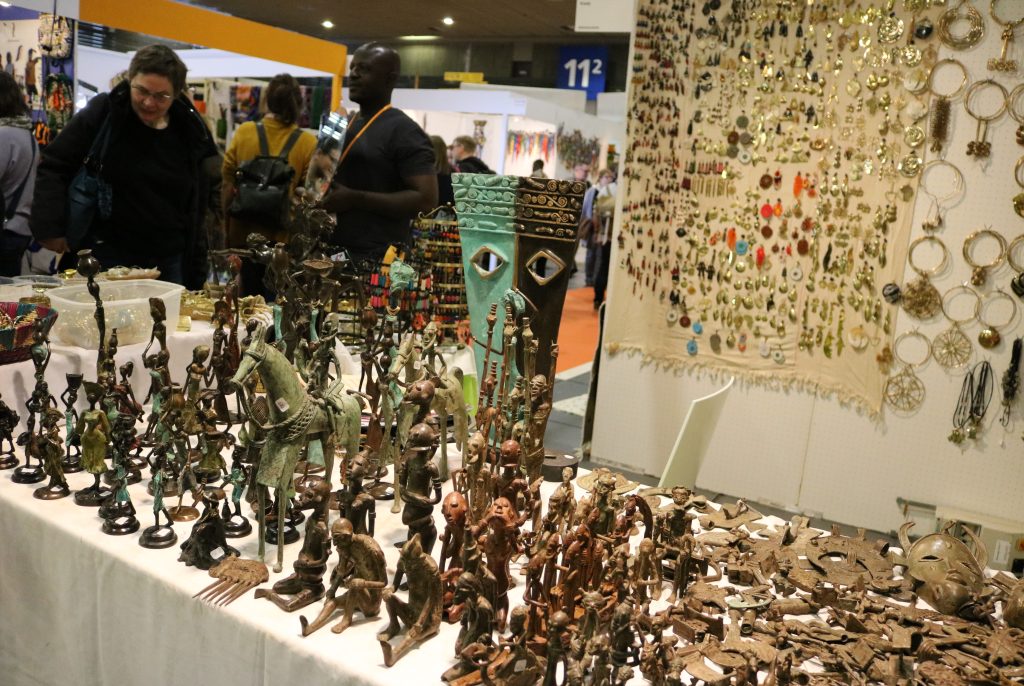 At Bazaar Berlin, visitors experienced a range of high-quality arts and crafts, design, natural goods and fair trade and socially produced products.
ASIGE from Ghana for example offered innovative ethical handmade baskets and other fashion products "handmade with love."
A variety of lightening systems from north Africa/Photo: AfricaNewsAnalysis
"The international atmosphere in the halls was unique," says Esther Piehl, Project Manager of Bazaar Berlin.
Ms Piehl stresses that "both new and long-standing exhibitors were delighted with the public they encountered here in Berlin adding that the visitors were curious and interested in both the products and the exhibitor's stories."
Dorcas Apoore, who represented ASIGE from Ghana, says that "Bazaar Berlin is a wonderful opportunity to sell products and make contacts with producers and buyers – I am delighted. Before I took part, we hardly had any customers in Germany. So many visitors came to us and praised our products, which gives us a great feeling. We'll be back next year and are already preparing the next steps for another participation."
BolgaBaskets and other accessories by ASIGE/Photo: AfricaNewsAnalysis
ASIGE is a social enterprise that provide exclusive training, skills and employment for over 400 women whiles working directly with vulnerable communities.
SOLOKO also from Ghana presented textile products whose creation was based on the tradition of Kente weaving of the Ewe culture in the Volta region of the West African country.
Woven fabrics by SOLOKO/Photo: AfricaNewsAnalysis
The following are some of the exhibitor's stories captured at Bazaar Berlin this year:
Ines Milagros Liefeld-Choque, Artesania Las Peruanitas, has been an exhibitor at Bazaar Berlin since 2007: "We were very satisfied again this year. The quality of the visitors was even better in 2022. Last year, many people were very frugal – but over the five days of the event, we noticed that many people wanted to treat themselves and were therefore much more keen to buy our alpaca wool jumpers. We have many regular customers who visited us again this year. Of course we'll be back next year."
"This was our first time exhibiting at Bazaar Berlin. We and most of the customers liked the location here in the Palais – we felt we were well placed here for what we offer," says Thomas Voßebürger, Managing Director of Jowollina. "Having previously only sold online, we spontaneously decided to be an exhibitor. Customers could really see and touch our products. Especially in the run-up to Christmas, it made sense for us to make this first attempt at a trade fair".
About the Bazaar Berlin
From 6 to 10 November 2024, Bazaar Berlin invites you to shop like on holiday for the 62nd time at the Berlin Exhibition Grounds. In 2023, over 430 exhibitors from 56 countries presented high-quality handicrafts, local specialities, individual fashion, jewellery, accessories, eco and fair trade products and natural goods in the World Market, Art & Style, Fair & Social, Natural Living and Winter at Home theme worlds. Around 35,000 visitors came to Bazaar Berlin 2023 to purchase exceptional gifts from all over the world for themselves and as presents.
Combining good business with social responsibility is an important concern of Bazaar Berlin. Since the trade fair started as a development policy event in 1962 under the name "Partner of Progress", it has regularly supported and promoted programmes for the ethical, fair trade and sustainable production of goods.