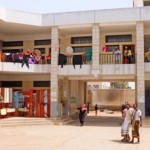 In the sweltering port city of Aden, about 300km south of Yemen's capital Sana'a, two dozen international NGOs are struggling to meet mounting humanitarian demands caused by a war raging in neighbouring Abyan Governorate where government troops have for a month fought to crush a local Al Qaeda ally, Ansar Al Shariah.
Few aid workers have been granted access to the governorate and those in Aden face growing security constraints due to organized criminal groups.
"We are managing to deliver aid by partnering with local NGOs, talking to tribes and doing a lot of mitigation work so that our security situation is the least exposed possible," Tareq Talahma, humanitarian affairs officer with the UN Office for the Coordination of Humanitarian Affairs (OCHA) in Aden, told IRIN.
"We are trying to take measures that will mitigate risk, such as placing staff under strict curfew and avoiding our offices on certain days due to the rising organized criminality," he said.
Teddy Leposky, a spokesman for the UN Refugee Agency (UNHCR), was stationed in Aden during the 2011 popular uprisings in Yemen which culminated in the negotiated transfer of power from longtime leader Ali Abdullah Saleh to his deputy Abd Rabu Mansour Hadi. But Leposky, like many others, was relocated to Sana'a in late May for security reasons.
Over the past three months in Yemen, three foreign nationals have been kidnapped, one shot dead and two others wounded by gunfire from local criminal groups, according to aid workers.
"The UN were not targeted or considered a target last year," Leposky told IRIN, "but now we're starting to have a concern that we can be targeted or will be."
UN chief security adviser Graeme Membrey told IRIN that a 21 May suicide bombing which killed nearly 100 soldiers in Sana'a was "the step change" that precipitated security reforms within his organization.
Shrinking government
"Yemen is a unique situation in that it is unpredictable," explained Leposky. "Indiscriminate suicide bombings to kidnappings across the country have fuelled the increasing perception of criminality and the diminished rule of law. That is essentially what came out of last year: the government shrank, and it's a difficult process trying to rebuild it."
The collapse of Yemen's central government can be traced to March 2011 when Saleh's security forces allegedly fired on protesters in Sana'a's Change Square, prompting a split in the military: Defecting soldiers joined Gen Ali Mohsen Al-Ahmar and moved into anti-government protest camps in urban centres. Yemen's underdeveloped periphery was abandoned by state forces, allowing armed militia, al-Qaeda militants and separatist groups greater space to operate.
Four anti-government factions came to the fore in this chaotic political landscape: Shi'ite Muslim (Houthi) fighters in the north, who fought a protracted battle with Saleh from 2004 to 2009; the Southern Movement (Hirak) in Aden, a separatist group which has been pushing for secession since 2007; a new insurgent group linked to Al Qaeda (Ansar Al Shariah), whose stated mission is to establish an Islamic caliphate in Abyan Governorate; and the remnants of Saleh's deposed regime in Sana'a, several of whom have defied presidential decrees by Hadi ordering them to abandon their posts.
Eric Marclay of the International Committee of the Red Cross (ICRC) said the 21 May attack led him "to revise a number of security rules for operations and also for international staff to minimize their exposure".
Local aid groups are also adapting. Nadwa Al-Dawasari, director of Partners-Yemen in Sana'a, told IRIN that she was compelled to freeze operations in Al-Jawf Governorate after a suicide car bomb careened through a schoolhouse where Houthi leaders were meeting on 25 May.
"With so many players now operating around the country, and the fact that they bombed a school, we couldn't take the chance of moving forward with our work," Al-Dawasari said.
Increasing needs, increasing constraints
At a 1 June humanitarian summit in Sana'a, a joint delegation of international donors and organizations, including the Organization of Islamic Cooperation (OIC), the Gulf Cooperation Council, the European Union, the League of Arab States, OCHA and the US Agency for International Development (USAID), convened to marshal support for Yemen's dire humanitarian situation.
"One of the goals of the summit was to refocus attention on Yemen's devastating humanitarian crises," Fuad Al Maznaee, OIC's director of humanitarian affairs, told IRIN. "Yemen's security situation is overshadowing its humanitarian emergencies and this has to change."
But according to the UN's Leposky, "it's trying to find a balance between these contradictory elements: on the one hand you have increasing [humanitarian] needs. At the same time you have to take into consideration movement restrictions and other security constraints."
Nowhere in Yemen is this humanitarian-security conundrum more apparent than in Aden, according to Marclay. In a 6 June appeal, he said, "Our staff were [in Abyan] a few days ago to assess the situation and found serious, urgent needs that, if not met, could lead to the displacement of over 100,000 people," in addition to the thousands who had already fled to safer places.
But the government has blockaded all roads leading into Abyan while the military campaign unfolds. "If we were immediately allowed to bring relief supplies in to Abyan, we could prevent population movements towards Aden," Marclay said.
IRIN News
www.irinnews.org
cc/eo/cb
Theme (s): Aid Policy, Conflict, Governance, Refugees/IDPs, Security,
[This report does not necessarily reflect the views of the United Nations]