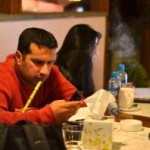 In a trendy coffee shop in the Jordanian capital, Amman, 20- and 30-somethings smoking sheesha pipes are playing the role of international aid agencies from their laptops.
Largely restricted by the Syrian government, traditional humanitarian agencies have been unable to access many of the areas affected by more than a year of unrest in Syria.
A new generation of aid workers – working through personal contacts and online networks – have been filling the gap. They say donors and international agencies are increasingly using them to get aid across, raising a number of questions around international law and ethics.
"We do everything: journalism, medical care, smuggling," said Ahmed Almasri, a Syrian refugee in Jordan, as he takes a puff from his sheesha pipe. "We do everything. We have all become superman."
One year ago, Almasri worked as a manager at a Duty Free shop in Syria. Now, he is one of the main players smuggling aid into Syria via Jordan.
It is a project that consumes his life – he calls his mother to wish her a happy Mother's Day while en route to drop off medicine to other activists who will arrange for them to be smuggled across the border.
He met his current girlfriend, another Syrian activist, in Amman, after she too fled because she was wanted by the Syrian government. They joke about naming their future children Dera'a, after the southern Syrian town where the uprising started.
He gets calls in the middle of the night – "Are you Ahmad Almasri? We have medical supplies for you from Qatar. Come pick them up at the border." He lives off of savings and remittances and runs on little sleep and too much caffeine.
In a smoke-filled room in the Jordanian border town of Remtha, he and a few other activists – some Syrian, some Jordanian – sit around in tracksuits discussing logistics, the floor cluttered with ashtrays, cups of coffee and cell phones.
"A 13-year-old boy who was wanted has just crossed the border illegally," announces another Syrian refugee, Abdu Abazid, as he gets off the phone. He himself has just arrived from Dera'a, where he was also involved in the movement of supplies. "We have to go pick him up."
Their networks stretch from Dubai to New Jersey to Barcelona to Australia. Members of the Syrian diaspora send them everything from satellite phones to blood bags. They then tap into a network of truck and taxi drivers, or smugglers – often working for free – to take items across the border. From there, another network of activists gets the items into any city or specific family in Syria, or to a network of doctors who then coordinate among themselves to get the medicines to the areas most in need. Syrians on the other side of the border inform Almasri and his crew if it is safe to try to smuggle things across on any given day, depending on the size of the security presence.
"At first, we each worked independently," Almasri says." But it became so big we needed to coordinate and get organized."
Now they joke they resemble a mafia. Many links in the chain don't know each other – but the system works.
Activists approach donors
It works so well that in March, Almasri decide to approach donors.
He was eager to get some big weight behind his and others' efforts and move their operations from a few items here and there to larger-scale operations.
He said he had attended several meetings where donors expressed a desire to help, but did not know how.
"One way or another, they have to help. How can they help? Is there any channel other than us? What – are they going to drop aid by helicopter?"
So he wrote a pitch.
"Since we have worked for an extend time inside Syria and expanded our work when we left it, we were able to organize ourselves in order to achieve the delivery of a variety of aid (medical, humanitarian, equipment for communication)," he wrote in a letter he sent to various governments, UN agencies and NGOs. "Here in Jordan we have a considerable large group of activists, we are able to work nonstop around the clock, and connect with official and semi official organizations in order to achieve our goals."
At first, he said, the response was timid.
"They said: `As governments, we don't deal with individuals'."
But Almasri and his colleagues insisted they could deliver the aid, and also be accountable for it.
"We told them we could document our spending… We can abide by any system you want – we can track who we gave it to, when it arrived."
Eventually, he says, the pitch worked.
He says he is now awaiting a shipment of more than US$1 million of medical equipment from one government. Another organization has promised to supply enough for an entire field hospital.
He will not sign a contract for these items. Before they get to him, they will pass through the hands of many organizations whose names will officially be on the books. But his group of activists will ultimately deliver them. "They don't ask how we do it."
Many donors are cagey when asked about their aid work in Syria; they insist they cannot disclose the identities of their "local partners" because it would put the latter at risk.
IRIN spoke to two international aid agencies that admitted to using activists to get aid into the country.
"We were looking around for ways and means to do what we felt was vital," said one international aid worker. "We had to find a way of getting this essential support and assistance to these people without going through the normal channels. It was when these networks presented themselves that we felt this was an opportunity and we took it…
"We have a responsibility and a mandate to assist in whatever way we can when the need is there," he went on. "That's what we're attempting to do in these incredibly difficult circumstances."
Some of it has to remain off the books, he added, which "has not made things easy in terms of our donors."
Other agencies look the other way when the aid they provide to Syrian refugees in Jordan is diverted.
"Some Syrian refugees take the excess food aid they receive back to Syria. They find a way," said Khaled Fayez Ghanem of the Islamic Charity Centre Society, a Jordanian group that is helping Syrian refugees along the border. "We don't get involved," he told IRIN with a smile.
"Those who donate [to Jordan] know the aid is not just for the refugees," a second international aid worker added.
The government recently agreed to a peace plan that includes unhindered humanitarian access, but there is thus far no evidence of its implementation. It has, however, since the beginning of the crisis, granted the Syrian Arab Red Crescent (SARC) permission to operate relatively freely. But SARC is already very stretched and not yet fully trusted by donors and activists.
Is it legal?
Under international humanitarian law (IHL), it is illegal to provide aid to residents of a country without its government's permission – unless that country is considered to be in the midst of an armed conflict. In the latter case, aid agencies would be legally entitled to provide aid in rebel-held areas with the opposition's agreement.
But international law experts say the unrest in Syria has not yet reached the classification of "non-international armed conflict", as defined by Common Article 3 of the Geneva Conventions on the laws of war and their second Additional Protocol – which says the opposition must demonstrate "responsible command" and "exercise such control over a part of its territory as to enable them to carry out sustained and concerted military operations".
In a February report, the UN Human Rights Council's Commission of Inquiry into Syria, found that while violence in certain areas may have reached the requisite level of intensity to qualify as armed conflict, the FSA and other opposition groups had not yet reached the necessary level of organization.
This has left the international community hamstrung. Stalled by vetoes at the Security Council and diverging approaches to the crisis, it has been unable to take decisive action. So where does that leave humanitarianism, or humanitarian intervention, as it has sometimes been called?
"On one hand, we have an international legal framework that requires the applicability of IHL to activate under Common Article 3 the possibility of an impartial humanitarian body – ICRC [International Committee of the Red Cross] or the United Nations – to offer its services to the parties," says Claude Bruderlein, director of the Program on Humanitarian Policy and Conflict Research at Harvard University. "On the other hand, we have a growing pressure for non-consensual intervention… as a way of providing some protection and safety to the population in Syria," he told a web seminar organized by Harvard on 15 March.
Amid this growing and "paramount" tension, many humanitarians are calling for a "new humanitarianism" – one that would be based in legitimacy and not legality.
"Smuggling or cross-border operations [are] perfectly legitimate if the intent is to help people who cannot be helped in other ways. In fact, there is an obligation to do so," said Mukesh Kapila, special representative of the Aegis Trust, an NGO that campaigns against crimes against humanity and genocide.
A longtime humanitarian, Kapila was formerly secretary-general of the International Federation of the Red Cross (IFRC), UN humanitarian coordinator in Sudan and head of conflict research at the UK Department for International Development (DFID).
"We need to revisit what humanitarianism really means in this day and age," he told the seminar, noting the morality of humanitarian assistance was increasingly distrusted. "We have a confidence crisis…
"Our problem," he went on, "is that we are seeking solutions to today's complex problems with ancient instruments. And those ancient instruments are either bodies of laws that have grown up over 50 years in an ad-hoc manner or ancient channels, the legitimacy of which is questioned, like the post-World Wars Security Council, with self-constructed groupings that increasingly have very little respect in the world we live in."
This month, Kapila crossed into Sudan's Nuba Mountains illegally to assess humanitarian needs.
"I'm quite impatient with arcane arguments on the legal side of this whole debate about humanitarian access," he said. "[The discussion] is leading us nowhere at all. Clearly, it's not a question of legality. It's a question of legitimacy."
Ian Hurd, associate professor of political science at Northwestern University in Illinois, says there are three ways in which humanitarians can claim that intervention in cases like Syria is lawful: a changing perception of what sovereignty means; a re-interpretation of the UN Charter; and the Responsibility to Protect doctrine.
But, "in all three of these justifications for intervention, we've moved beyond the framework of international law," he warned during the Harvard seminar. "So the question is not so much – what is legal, but perhaps, what is useful?"
"New humanitarianism"
Participants of the seminar suggested the international community should stop looking to international law for a solution, and instead look for practical alternatives, like turning embassies of Syria over to the opposition; taking financial and/or diplomatic measures against perpetrators of crimes in an effort to pressure them; and providing logistical, training and skills support to the opposition to help people survive. And if all that fails:
"When we cannot protect, it is better to say so, and let people find their own measures of self-protection, rather than give them false hopes, alibis and fake assistance which often leaves them more vulnerable," Kapila said.
But for many in the aid world, Kapila's vision of a "new humanitarianism" crosses a very thick red line.
"There is a system put in place by the UN," said one aid worker. "You can't get rid of international law."
"If we don't stick to our mandate as an institution, we won't be credible," said Ruba Afani, ICRC spokesperson in Jordan. "Our dialogue with those who have an influence on the humanitarian situation is built on transparency to gain the trust necessary for us to reach people who need help."
But the debate is longstanding: Kapila's call to re-envision humanitarianism echoes one made by former UN Secretary-General Kofi Annan, now special envoy to Syria, more than a decade ago as notions of sovereignty were changing and human rights became a more universal currency.
"[These changes] do oblige us to think anew about such questions as how the UN responds to humanitarian crises; and why states are willing to act in some areas of conflict, but not in others where the daily toll of death and suffering is as bad or worse…
"If it is to enjoy the sustained support of the world's peoples, intervention must be based on legitimate and universal principles. We need to adapt our international system better to a world with new actors, new responsibilities, and new possibilities for peace and progress," he wrote in an op-ed in 1999.
Arguably, the theoretical debate has not evolved much since then, but in practice, Ahmad Almasri, Abdu Abazid and others are living examples of this "new humanitarianism".
"Since we began our work in this field, and due to our resources on the inside, we have accomplished a success rate of 95%," Almasri wrote in his pitch. "We are very confident that with your added help we can deliver more aid to our people in Syria. The Syrian people are in a dear [sic] need for your assistant…. In the name of humanity, in the name of friendship and in the name of compassion we ask you to ….. Please help us, help the Syrian people."
IRIN News
ha/cb
Theme (s): Aid Policy, Economy, Governance, Human Rights, Security,
[This report does not necessarily reflect the views of the United Nations]