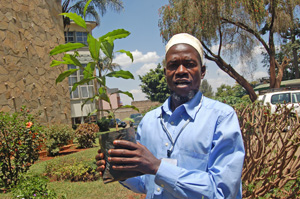 Faced with environmental degradation that threatens the livelihoods of many people in Africa, a group of 50 religious leaders met in Nairobi earlier this month and pledged to take concrete steps to mitigate the effects of climate change.
In Kenya, the Anglican Church, with an estimated five million followers, committed to increase the country's forest cover by 10 percent over the next four years, and to promote soil conservation in 100,000 households.
The Hindu Council of Africa, with an estimated 1.7 million followers, pledged an environmental audit ofits buildings. Other pledges included the development of tree nurseries and adoption of green principles to save energy, made by the Qadiriyyah, Nigeria's largest Islamic sect and the Anglican Province of South Africa, respectively.
The leaders, drawn from Muslim, Christian and Hindu faiths, launched an action plan to be implemented over the next seven years, which includes, among other things, developing workshops on environmental conservation, ending the use of plastic bags, conducting trainings on sustainable land management and rainwater harvesting, and promoting the conservation of forests.
The leaders came from Cameroon, Ethiopia, Ghana, Kenya, Nigeria, Rwanda, South Africa, Tanzania, Uganda and Zimbabwe.
Together, the three faiths have an estimated 184 million followers living in some of the world's poorest regions, where people are particularly vulnerable to the effects of climate change.
One Earth
The three-day meeting, themed 'Many Heavens, One Earth, Our Continent' was organized by the Africa Biodiversity Collaborative Group and funded by the World Bank, the US Agency for International Development and the Norwegian government.
Mounkaila Goumandakoye, director and regional representative of the UN Environment Programme, said, "We could be more successful, we could be more relevant to the needs and aspirations of the continent, we could have more impact in all African countries, if we can work with you [the faiths] hand-in-hand. Working with religions will go to the top of United Nations Environment Program agenda in Africa."
Religious groups have often played a role in environmental conservation. In the US, for instance, a coalition of Christian and Jewish groups are promoting an end to the cutting of old-growth forests and to commercial logging in public lands while the Oxford Biodiversity Institute has partnered with the Alliance of Religions and Conservation (ARC) and the World Database on Sacred Natural Sites to map religious forest sites globally for conservation. Religious groups own an estimated 5 to 10 percent of forests globally.
The close attachment of some religions to water and forests, experts say, make it easy to engage them in environmental conservation.
"People use forests as shrines, and rivers and lakes and, particularly, trees have been used as symbols of power by many religions around the world. They have a genuine interest in their conservation," Bethwel Murunga, who teaches African religion at Maseno University, told IRIN.
Martin Palmer, the secretary general of the UK-based ARC, which works with religious groups in environmental conservation based on their core teachings, beliefs and practices, said religious groups are a critical force in conserving the environment.
"We are realistic, but also optimistic… This cannot be done by the faiths themselves, but I can [say they can do] two-thirds of it… We have asked our partners, the World Bank, World Wide Fund for Nature, the Norwegian government and [others], to come here and see where we now need help," he said.
IRIN News
www.irinnews.org
fn/ko/am/rz
Theme (s): Economy, Environment,
[This report does not necessarily reflect the views of the United Nations]