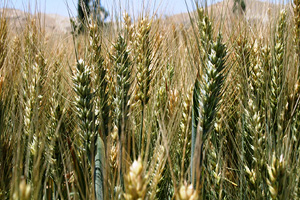 Afghanistan is likely to face a significant food shortage in the coming months, following poor rains which have affected this season's wheat crop. Wheat is the primary food staple for most families.
"There have been problems with rainfall, so there will be a significant shortfall in the harvest," Challiss McDonough, spokesperson for the UN World Food Programme (WFP), said. "The Ministry of Agriculture is conducting an assessment to determine the numbers of those affected, but there are also concerns about livestock, especially in the northern and highland areas."
The harvest season runs from May to late August, but according to the US Agency for International Development's Famine Early Warning Systems Network (FEWSNET), most of Afghanistan received inadequate or ill-timed rain and snow this year, which will lead to heavy losses as almost all wheat production is rain-fed. Pasture will also be affected. Livestock in the northeast and northwest have already begun to deteriorate, forcing families to sell at 30-50 percent below market prices.
Estimates by the Afghan Ministry of Agriculture and the UN Food and Agriculture Organization, it added, show that this year's production would be about 3.256 million tons of wheat – 28 percent less than the bumper 2010 harvest. In the central highlands and Badakshan in the northeast, spring rain-fed wheat has not been cultivated because of abnormally dry conditions.
"In a year with a normal harvest, most households in the northern rain-fed and irrigated wheat growing areas can produce enough wheat to sell in the market while still meeting their food needs throughout the year," FEWSNET said in a 20 June statement. "However, due to the shortfalls in production this year, the reliance on purchases will increase and income from wheat sales and on-farm labor will decrease."
Prices up
The negative perceptions in some provinces about the coming harvest have already pushed wheat prices up, according to WFP's price monitoring report for June. In March, FEWSNET said, wheat grain prices in Mazar-i-Sharif were 30 percent higher than at the same time last year, and in May prices for wheat grain were 85 percent higher than a year earlier.
"The poor harvests will increase the importance and influence of wheat imports from Kazakhstan, where prices are also high," it noted. "The poor wheat harvest will also limit the supply of on-farm labor opportunities in the north, an important income source for poor households."
Early this year, the government announced plans to stockpile up to 500,000 tons of wheat in different areas in anticipation of a mid-level drought later in the year to assist vulnerable communities, stabilize food prices and prevent shortages. By January, about 75,000 tons of wheat (surplus from 2010 domestic production procured by the government) was already in "strategic stockpiles".
At least nine million Afghans (36 percent of the population) live on less than a dollar a day, and five million "non-poor" live on 2,100 Afghanis (US$43) a month, according to a 2008 National Risk and Vulnerability Assessment. Dry conditions have already affected income earning opportunities in northern Afghanistan and the central highlands because of reduced demand for farm labour.
Afghanistan produced 4.5 million tons of wheat last year (more than 80 percent of the annual 5.2 million tons required nationwide), but failed to offer adequate wheat flour to urban markets, which are dominated by imported flour mainly from Kazakhstan and Pakistan.
McDonough said WFP was refocusing its assistance, partly because of a funding shortfall of US$220 million. "We have a severe funding shortfall, but we are still making every effort to continue giving assistance to those in critical need," she told IRIN.
The agency had planned to support 7.3 million vulnerable and food-insecure Afghans in all 34 provinces, but the funding shortfall has forced it to scale back on some programmes including school meals.
IRIN News
eo/cb
Theme (s): Aid Policy, Early Warning, Economy, Environment, Food Security, Health & Nutrition, Natural Disasters, Water & Sanitation,
[This report does not necessarily reflect the views of the United Nations]