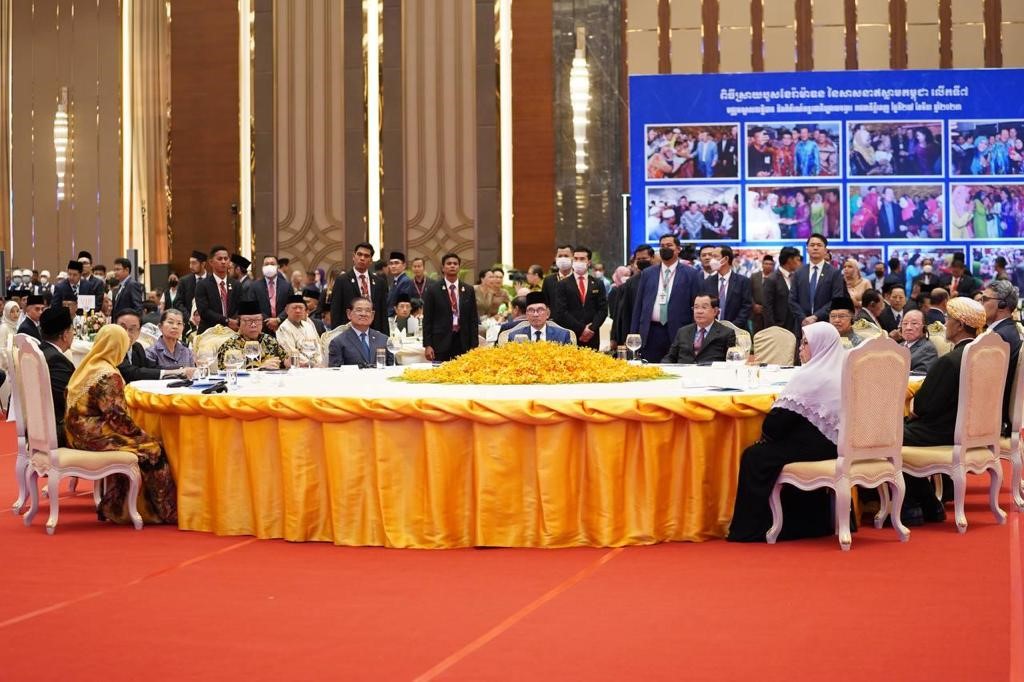 Jeddah, 28 March 2023

A delegation from the OIC General Secretariat attended the annual Ramadan Iftar reception hosted by HE. Hun Sen, Prime Minister of the Kingdom of Cambodia, on 27 March 2023, in the Cambodian capital city Phnom Penh.

The 7th Iftar reception was an important event attended by dignitaries from the regional countries, including the Prime Minister of Malaysia, former vice president of Indonesia and members of the diplomatic community.

On this occasion, HE Hissein Brahim Taha, OIC Secretary General, expressed his highest consideration to Cambodia's leadership, including Prime Minister Hun Sen, for hosting this annual event.

In a statement delivered on his behalf by Mr EL Habib Bourane, Director of Muslim Communities and Minorities at the Department of Political Affairs, the OIC Secretary General underlined that this event testified to Cambodia's longstanding respect for diversity, peaceful coexistence and tolerance among all communities and to the high regard the Government of Cambodia accords to the Muslim Community.

He further acknowledged that the Cambodian Government's promotion of peaceful integration, coexistence and harmony among various communities was an example and inspiration for other countries to follow.

The OIC Secretary General further appreciated the constructive engagement existing between the OIC and Cambodia and expressed his commitment to strengthen the close and friendly relations and cooperation in all areas of mutual interest.

Speaking before an audience of over 6000 persons coming from different regions of Cambodia and from neighboring countries, PM Hun Sen underscored that his Government has always promoted freedom of religion and religious harmony in Cambodia by facilitating all religious practices and resolutely opposing racism. He further emphasized that religious harmony is indispensable for building and ensuring peace and development.

He also called on the Cambodian Islamic Supreme Council to strengthen and expand national and international cooperation to mobilize both technical and financial assistance to contribute to the improvement of the livelihood of the Muslim community through the development of human capital. 

The delegation from OIC General Secretariat held meetings with a number of Cambodian officials, Mufti of Cambodia and representatives of the Muslim community. The delegation also visited mosques in the capital Phnom Penh and interacted with members of the Muslim community.