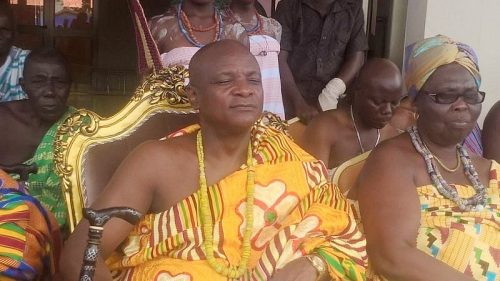 I was in Ghana then, so I personally closely followed this event. It all started with widespread reports that the recently elected National Chairman of the ruling New Patriotic Party (NPP) had purchased some 300 minibuses, which Mr. Freddie Blay intended to hand over, one minibus per each one of the 275 constituencies in the country in which NPP had representation, to be used for commercial purposes. This was, obviously, the owner-publisher of the Daily Guide Africa's way of facilitating the creation of a remarkable number of jobs for party members and foot-soldiers. Mr. Blay also made it crystal clear that he had personally raised what amounted to 10-percent of the total cost of the 300, or so, minibuses with some business associates, which was then used to secure a bank loan to enable him to purchase these buses. If I remember accurately, the deposit amount on the purchases was some $3 million (USD).
Personally, I thought that this was one of the most progressive initiatives to have come from the National Chairman of any major political party or organization in the country. But I was also elated because I had been writing about the imperative need for such a progressive and laudable venture for quite some time. In the recent past, for example, I have even suggested that as a means of giving palpable meaning to one's membership of the free-market-oriented New Patriotic Party, the leaders of the NPP could even seriously consider going into such hospitality ventures/enterprises as restaurant and hotel management and/or ownership. I have always believed if all that one's membership in any progressive modern political party afforded one was the mere provision of membership ID cards and the annual/periodic "extortion" of dues from members in good standing, then there was absolutely no need to become a member of any political party.
I have also advised the NPP leaders, through my media columns and other writeups, to go into commercial agriculture and aquaculture as well. What makes the entire fracas between Togbe Afede, XIV, the President of the Asogli Traditional Council, as well as President of the National House of Chiefs, rather disconcerting is the fact that Togbe Afede is well aware of the fact that Mr. Blay is a businessman with a remarkable track-record of success, as well as being a big-time politician of remarkable standing at both the local and national levels (I guess you could even say at the international level as well), just like the Yale-educated Togbe Afede who is also known to be the majority shareholder or owner of Ghana's premiere soccer club, Accra Hearts of Oak. The Ho-Asogli chieftain has also dabbled in NDC-partisan politics, despite statutory laws and regulations – as I vividly recall, he was part of the Atta-Mills' Transitional Team and must have headed some two or three sub-committees. So Togbe Afede cannot pretend to have "innocently" called out Freddie Blay in public.
In other words, if, indeed, Togbe Afede had any forensically actionable evidence indicating that Mr. Blay was involved in any shady business dealings or racketeering, short of this Asogli Chieftain's own Mafia-style petty jealousy or envy a la the Rawlings-Tsikata "revolutionary" agenda, as a highly respected – and I use the latter word with a pinch of salt and "paper" – and legitimately invested traditional ruler of national repute and influence, and co-founder of the Kenneth Kuntunkununku Ofori-Atta-led Databank, the most advisable and/or intelligent thing to have done ought to have been for him to have written to one of our national security agencies, such as EOCO (the Economic and Organized Crime Office) and advised its officials to launch a full-scale investigations in the business dealings of the National Chairman of the ruling New Patriotic Party. You see, you simply and imperiously and self-righteously do not call a press conference or come out publicly to virulently question or impugn the personal and professional integrity of Mr. Freddie Blay, merely because you, Togbe Afede, obstreperously resent the guts of this major political opponent of yours and your kind.
Dear Reader, you see, once he inadvisably or unwisely took to the airwaves and the electronic media to question the integrity and hard-earned reputation of Mr. Blay – who may be exactly his own age or even a little older than Togbe Afede, as Americans are wont to say, all bets were off. You see, we are no longer in the precolonial or even the colonial era when bully chieftains like Togbe Afede could take the law into their own hands. He may have to promptly withdraw his statement of threat on the life of Mr. Blay or be forced to resign his position as both the President of the National House of Chiefs as well as President of the Volta Regional house of chiefs, or squarely face the consequences if anything suspiciously untoward ever befall the former stalwart of the Kwame Nkrumah-inspired rump-Convention People's Party (CPP). Togbe Afede owns not region in Ghana, not even his own very limited Ho-Asogli land-space. And he would be making a great mistake to suppose that he can threaten the life of any other Ghanaian short of his own. I mean, why didn't he call for the investigation of then President John Dramani Mahama, in the leadup to the 2012 Presidential Election, when the Gonja-Boy presented the members of the National House of Chiefs with the payola sum of dozens of V8 automobiles? Togbe Afede ought to have figured out by now that there far more supporters behind Mr. Freddie Blay than a wannabe Thug like himself.
You see, once Togbe Afede publicly impugned the integrity of Mr. Blay, all bets were off. In other words, he gave the NPP's National Chairman the inalienable right to reply and/or reprise in any which way that this great Ghanaian citizen of Nzema-Akan descent so desired or wanted. Now, I don't see the common sense in the Asogli chieftain's savagely and unconscionably drawing in all 33 Traditional Councils and/or Constituencies in the Volta Region – I hope my Peki-Blengo ancestors are not part of such a criminal Mafia scam – to gang up against this very fine gentleman against whom Togbe Afede was the very first to throw the defamatory punch or punches at. To be certain, President Akufo-Addo could not have had a better reason or pretext for the creation of the Oti Region out of the Volta Region. Or, Dear Reader, could he?
*Visit my blog at: kwameokoampaahoofe.wordpress.com  Ghanaffairs
The views expressed by this author remain solely their own and are not to be taken as the view of the Editorial Board of www.africanewsanalysis.com,  www.zongonews.com and ZongoNews Radio & TV

Print Friendly