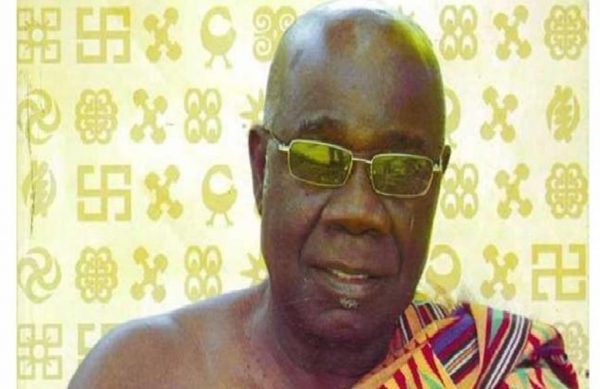 I read Ms. Elizabeth Ohene's column titled "Why Ghanaians Are So Slow to Bury Their Dead" with knowing amusement, because I had an uncle – I never met him – who was the Baamuhene or Chief Custodian of the Akyem-Abuakwa Mausoleum at Banso and the Okyeman Royal Stool Lands – whose corpse was kept in the refrigerated morgue for more than 6 years, from what I learned, while some family members rancorously litigated and jockeyed over who best qualified to replace him as the next Okyeman Baamuhene (Banmuhene, to be certain). My maternal hometown is Akyem-Nkronso but I have never been to the town, except, perhaps when I was a few months old and strapped to the back of my late mother, early in the 1960s, when she traveled with me to Akyem-Nkronso for the funerary festivities of my great-grandmother who, by the way, lived most of her adult life married to Amankrado Agyeman, the maternal uncle of Barima Ohemeng, the savagely and ritually slain and immortalized chief of Akyem-Apedwa, more widely and globally known as Nana Akyea-Mensah.
Personally, I think it is a gross misnomer to describe the brutal assassination of Nana Akyea-Mensah as a "ritual murder," because the stark facts of this most horrid and heinous crime clearly point to an assassination plot and execution. It had more to do with who best qualified to be enstooled as the next Okyenhene, in the wake of the death of Osagyefo Nana Sir Ofori-Atta, I, (aka Nana Kwaku Duah). I am also not even sure that I was actually carried on my mother's back to Nana Owarewaa's funeral at Nkronso because very likely, the funeral did not even take place in our ancestral hometown, as the old woman is known to have been buried at Apedwa. To be certain, Nana Owarewaa was the first person to have her mortal remains interred in the then newly earmarked Apedwa Presbyterian Church Cemetery. Legend has it that she had been led by the hand by one of her granddaughters, my mother, to the Presbyterian Minister's Manse because Attaa Aniniwaa, then barely into her teens, did not want her beloved grandmother, then well-past her sixties, to be buried among the "heathens" when she passed on. Nana Owarewaa was the third in line of the three sisters whose maternal ancestors are credited with having founded and settled at Nkronso.
Nana Warewaa's one and only brother and her immediate younger sibling, Teacher Adu, later Nana Adu, would settle at Yirenkyiren-Amanfrom – or Omanfoforowmu, the New Township – because he evidently did not want to be drawn into the messy and bloody affairs closely associated with the chieftaincy institution, in general, and the Nkronso chieftaincy in particular. But perhaps what is most significant to point out here is the fact that Nana Adu had been one of the pioneer or seminal students to be trained at the Okwawu-Abetifi Ramseyer Teacher-Training Center and had therefore been privileged, as it were, to have converted to Christianity, a privilege that his three elder sisters, except for my great-grandmother, belatedly, had not been blessed with, obviously because the education of women at the time was not taken seriously, for the most part. Teacher Adu had been a student at the Abetifi Ramseyer Training Center sometime during the 1890s or thereabouts.
Whatever the real details of the story may be, keeping Nana Adoasi in the morgue for 6 years while his relatives fiercely battled over whether the next of kin had to, once again, be selected from the Amankwaa-Pam lineage of the Nkronso Royal Family, rather than from either of the two senior lineages, greatly embarrassed me, especially because it became prime grist for at least one news article that I chanced across not very long ago. I did not even know that I hailed from the Amankwaa-Pam branch of the Nkronso Royal Family until the eruption of this bitter familial dispute. I would learn this fact from my immediate elder sister, Abena Yeboaa, who has visited Nkronso several times and is therefore acquainted with a remarkable number of our family members and relatives. I really enjoyed Ms. Ohene's article, although as I have done on several occasions in the past, I vehemently beg to disagree that among us indigenous Ghanaians and Africans there is any such thing as an "Extended Family." I sincerely believe that our real extended family in Ghana is the nation at large.
I also believe that a lot of customary emphasis and expenditure are unduly invested in the funerary rites for the deceased because as a people, we tend not to value the living as much as we ought to, unless these relatives of ours happen to have been well-heeled and magnanimous, as I understand the case to have been with Mr. Samuel Akenten Appiah-Menka, the distinguished Ghanaian statesman and entrepreneur whose life was recently celebrated across the country with a State Funeral and Burial. Some prefer the more rhetorically imposing and dignified term of "industrialist" instead of entrepreneur. It goes without saying that Mr. Appiah-Menka was a solid human institution in his own right. I never met the man, but I was extremely delighted to learn that he had schooled at the Osagyefo Ofori-Atta, I-founded Abuakwa State College and found that experience to have been quite seminal and definitive to the determination of his career choices and later his intellectual and professional development. Of particular note, of course, is his well- told encounter with Mr. William Ofori-Atta, then Principal of ABUSCO, and how the maternal uncle of the now-President Addo Dankwa Akufo-Addo had taken a great liking to the young Appiah-Menka and had even scraped around for some scholarship money for this obviously promising young man who had arrived at the school well after all the scholarship money had been disbursed.
The APINO Soap-Man would, of course, more than creditably acquit himself, among a plethora of ways, notably, by financing the construction of a whole dormitory block at the Abuakwa State College. You see, Dear Reader, I often identified the APINO MAN more closely with the Akufo-Addo Faction of the New Patriotic Party (NPP), although ever the suave and inimitably progressive and unifying diplomat, Mr. Appiah-Menka served more as a political and ideological bridge than as a bona fide affiliate or member of any clearly defined ethnic or sub-ethnic polity. I also pretty much relished his running battle against the swashbuckling and nation-wrecking Chairman Jerry John Rawlings, who scandalously launched a senseless boycott of APINO SOAP at a time when Ghanaians had absolutely no viable alternative, because the Pontiff of the Trokosi Nationalists had effectively destroyed Ghana's industrial foundation by unconscionably quartering up and selling off the Nkrumah-created Ghana Industrial Holdings Corporation (GIHOC) at giveaway prices to his wife, relatives, friends and criminal political associates.
Produced in honor of a far less distinguished and morally and materially progressive Ghanaian citizen, the 226-page funeral "brochure" reportedly produced in memory of the APINO MAN was precisely what the proverbial doctor ordered. So long, Uncle Appiah-Menka! My greetings to my old man and my old lady. Indeed, it was absolutely not for nothing that our ancient Akan sages were known to often observe that: "We attend someone else's funeral in order to mourn our own departed dear ones."
*Visit my blog at: kwameokoampaahoofe.wordpress.com  Ghanaffairs
The views expressed by this author remain solely their own and are not to be taken as the view of the Editorial Board of www.africanewsanalysis.com,  www.zongonews.com and ZongoNews Radio & TV

Print Friendly