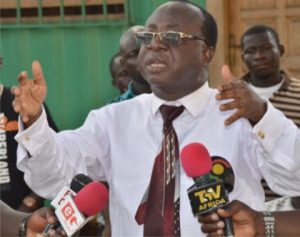 The members, supporters and sympathizers of the newly elected Addo Dankwa Akufo-Addo Administration may have won the 2016 general election, but if care is not taken, and fast enough, the ruling New Patriotic Party (NPP) may well lose the equally critical and moral propaganda battle currently raging over widely alleged incidents of violent attacks by some young supporters of the party against some members and supporters of the main opposition National Democratic Congress (NDC). So far, the rather half-hearted explanations given by Mr. Freddie Blay, the Acting National Chairman of the NPP, seeking to justify the violent activities of some of the youths of his party against their main political opponents, are untenably scandalous and shockingly unprofessional, to say the least (See "NPP Members Only Protecting State Facilities – Blay Justifies Takeover" Starrfmonline.com / Ghanaweb.com 1/12/17).
If, indeed, as Mr. Blay claims, legions of NDC members and supporters have been laying siege to state-owned facilities and properties like Tema Harbor, the DVLA (or motor vehicle-licensing offices), Peduase Lodge and toll booths, as well indulging in the massive looting of other taxpayer-funded properties, then it well appears to me that the most lawful thing to do is to call in state security operatives like members of the Ghana Police Service and the Ghana Armed Forces, especially in places like the Tema Harbor, where hundreds of motor vehicles with unpaid duties are reportedly being taken out of cargo containers and brazenly driven away by thugs widely believed to be in the pay of some movers and shakers of the National Democratic Congress.
Needless to say, taking the law into their own hands, such as has been widely reported to have been done by some members and supporters of the Akufo-Addo-led New Patriotic Party, is diametrically the opposite of how sanity and the rule of law and order are induced or brought to bear on the affairs of any civilized democratic political culture. If he has not already done so, then President Akufo-Addo needs to promptly issue an official statement ordering an immediate cessation to such barbaric incidents of vandalism and human carnage. He should also order the immediate intervention of all state-security agencies and launch full-scale criminal investigations into these incidents and ensure that all the culprits and criminal suspects are promptly and rigorously brought to book or relentlessly prosecuted.
The leaders of the recently "oppositioned" National Democratic Congress must also bear some of the blame for these raging acts of vandalism, thuggery and other acts of violence and lawlessness. It goes without saying that what is happening right now can be easily traced back to at least December 2008, in the wake of then-Candidate Akufo-Addo's narrow loss to then-President-Elect John Evans Atta-Mills, late, when legion members of the NDC's Youth Wing were widely alleged by the media to have virulently taken over publicly owned properties and facilities, including public latrines, in cities and towns across the country. Back then, as I vividly recall, there was a diddly little done to promptly quell such wanton acts of violence. We are also not the least bit fooled by the glaring fact that the overwhelming majority of these acts of violence are being perpetrated by thugs and goons hired and/or sponsored by the leaders of the National Democratic Congress, who have, characteristically, been suavely and deviously feigning innocence, even as they promise apocalyptic retaliatory measures.
Make no mistake, the Rawlings-founded National Democratic Congress was born out of naked violence, wanton robbery of state property, raw intimidation and downright lawlessness and has not appreciably changed for the better over the past three decades. There needs to be also put in place a more progressive administrative transition mechanism, besides the so-called "Handing Over Notes" that will ensure that cabinet appointees of the outgoing government hold fort until their replacements or successors have been duly confirmed by the Parliamentary Appointments and Vetting committees. If such an arrangement existed, what we are witnessing now would be decidedly a thing of the past.
*Visit my blog at: kwameokoampaahoofe.wordpress.com  Ghanaffairs
The opinions expressed are the author's and do not necessarily reflect the views or have the endorsement of the Editorial Board of www.africanewsanalysis.com, www.wapsfeatures.wordpress.com

Print Friendly