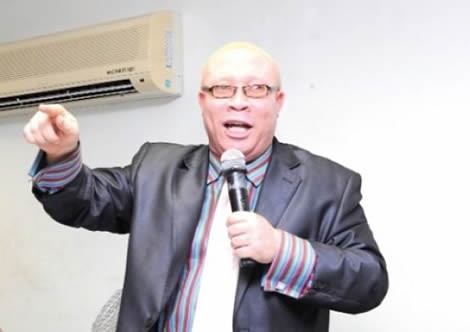 Mr. Moses Foh-Amoaning cannot be really interested in the protection and preservation of "Proper Human Rights and Family Values," else the renowned lawyer would not be dead-set against the human rights of LGBTQI people (See "Flagstaff House Now 'House of Homosexual Promotion' – Foh-Amoaning" Foxfmonline.com / Ghanaweb.com 3/13/18). As I have already hinted in a countless number of columns on this issue, clinical or genetic albinos like the Ghana Law School lecturer cannot smugly and cavalierly presume to be reckoned among "normal" human beings (My profound apologies to other albinos in Ghanaian society who, unlike Mr. Foh-Amoaning, believe in the inalienable humanity of all Ghanaian citizens, irrespective of sexual orientation).
For every reasonably well-educated Ghanaian citizen is fully aware of the fact that "albinism," or the condition of being born an albino, is a genetic mutation, else the overwhelming majority of Ghanaian citizens, and Africans in general, would be looking like Mr. Foh Amoaning. Indeed, in many East and Central African countries, most notably Zambia, the natural, biological condition of being born an albino is a criminal offense traditionally or customarily punishable by stoning and other forms of execution. This is what highly formally educated albinos like Mr. Foh-Amoaning ought to be fighting. At any rate, precisely who decides what is the "proper" form of "human rights"? Definitely not an albino, if we go by the logic of the allegedly Oxbridge-schooled Mr. Foh-Amoaning.
It is also inexcusably absurd for anybody to claim that, somehow, it has to take the Akufo-Addo-resident Flagstaff House or led neoliberal government of the New Patriotic Party (NPP) to recognize the existence of homosexuality in Ghanaian society. The fact of the matter is that homosexuality is as ancient as the existence of Nature itself. Now, we can quibble over the ethical soundness of homosexuality or the lack thereof, but that is the exclusive preserve of religious cultures and institutions, which is to be neatly and clearly differentiated from the legal and political concept of human rights. In reality, short of religious ideology or philosophy, the real menace posed by homosexuality is the aggressive and transgressive behavioral tendencies of Ghanaians like the leader of the so-called National Coalition for Proper Human Rights and Family Values.
In all this, what needs to be underscored, but which is almost invariably left out of the national discussion on LGBTQI culture is the fact that even in countries where homosexual cultural practice is legally recognized and accepted or, properly speaking, tolerated, such as the United States, Britain and Canada, the overwhelming majority of the population, almost invariably the Christian community, is generally averse to the LGBTQI culture, even though some Christians who believe in the inalienable equality of humanity tend to be "charitably" tolerant. Which must be clearly differentiated from an unreserved endorsement of the practice, any more than Alt-Right or virulently racist leaders like US President Donald John Trump or Mr. Nigel Farage must be expected to unreservedly embrace people of non-Aryan or European descent, particularly Africans.
I make the preceding observation because in most of his pronouncements, the leader of the so-called National Coalition for Proper Human Rights and Family Values has been quick to accuse Western diplomats of conniving with local same-sex activists to promote gay/lesbian culture in Ghana. There can, of course, be absolutely no question about the fact that homosexuality is relatively more openly tolerated here in the West. But what also needs to be critically taken note of is the fact that the legal tolerance of homosexuality is primarily in the context of human rights, or the right of each and every human to be accepted and respected for whatever and whoever we may be, in respect of our personal habits and cultural practices, so long as such individual differences do not criminally transgress the established laws of the land.
I mean, you bet your proverbial bottom-dollar on any day of the week that I am not particularly attracted to albinos, males or females, but I have the highest non-judgmental regard for this veritable species of humanity, just as I do for the host of the rest of non-leucistic or albinoid humanity. In other words, I still respect Mr. Foh-Amoaning as a human albino, though I have absolutely no respect, whatsoever, for his deeply entrenched and fanatical animus for people of LGBTQI orientation.
*Visit my blog at: kwameokoampaahoofe.wordpress.com  Ghanaffairs
The views expressed by this author remain solely their own and are not to be taken as the view of the Editorial Board of www.africanewsanalysis.com,  www.zongonews.com and ZongoNews Radio & TV

Print Friendly