Ghana's newly-appointed Ambassador to Federal Republic of Germany, Her Excellency Mrs Gina Ama Blay  presented her Letter of Credence to the President of Federal Republic of Germany, Dr Frank-Walter Steinmeier at a ceremony at the Castle Bellevue in Berlin on Tuesday.
Her Excellency Ambassador Gina Blay and her entourage were welcomed by a Guard of Honour mounted by a detachment of the German Armed Forces, Mrs Gina Blay and her entourage were then ushered into the Presidential Palace where she appended her signature in the Official Guest Book.
After introducing members of her delegation to the President, Ambassador Blay and President Steinmeier held discussions behind closed doors. The discussions were believed to centre on bilateral relations between Ghana and Federal Republic of Germany as well as regional, African and international issues.
Speaking at a reception to mark the ocassion of Presentation of Letters of Credence, Ambassador Mrs Gina Ama Blay observed that the official commencement of her work as ambassador "presents yet another fine opportunity for us to expand the frontiers of our bilateral relations with Germany", adding that "this comes against the backdrop of successful general elections in Ghana on 7th December 2016; the 7th of such since our return to multi-party constitutional democracy in 1992 and the resultant swearing-in of His Excellency, Nana Addo Dankwa Akufo-Addo as the new President of the Republic of Ghana on 7th January 2017. This event is also taking place at a time when we are observing a year-long celebration of the 60th Anniversary of Ghana's Independence."
Ambassador Gina Blay stressed that 60 years of nationhood was a significant milestone in the life of every people adding that a lot has happened in Ghana over this period.
"We have had our fair share of challenges, but also our good moments. In all this, we take pride in what we have achieved through our collective efforts and are inspired by  the increasing enthusiasm of our people, especially the youth of our country, to achieve even more as a nation. We are also fortunate to have been able to nurture matually beneficial relations with friends and partners like Germany throughout this journey."
Resplendent in a rich and colourful world-renowned Ghanaian Kente attire, Her Excellency Ambassador Gina Ama Blay, told the assembled dignitaries that "Ghana still faces huge developmental deficit and gaps for which the current Government of President Nana Akufo-Addo was working assiduously to bridge.
"In particular, there is still a lot that we want to do to improve the quality of lives of our people. My task as Ambassador will therefore be to marshal and leverage all the resources at our disposal and explore all the avenues to deepen the existing relationship between Ghana and Germany and through that contribute to achieve government's commitment to develop and transform Ghana beyond being a recipient of aid.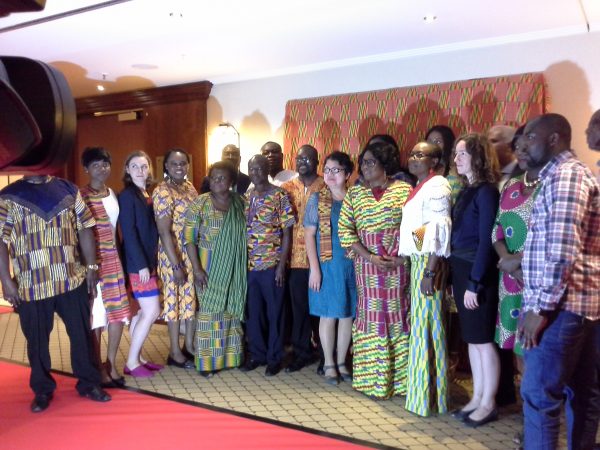 "I am looking forward to give added impetus to existing areas of cooperation between our two countries; such as entrepreneurial and skills development, and the promotion of vocational and technical education, drawing from the German experience where appropriate."
Her Excellency stressed that also of great importance, in her task as Ambassador "will be the promotion of German investments in Ghana, especially from the Small and Medium-scale Enterprises (SMEs)."
Ambassador Gina Blay told the audience at the colourful ceremony that the flagship policies and programmes of President Akufo-Addo's government, including the "One District One Factory"; "Planting for Food and Jobs"; and the transformation of the country's business environment to make it the most business-friendly country in Africa should stimulate more interests of the German business community in Ghana.
"In this endeavour, I will be looking forward to tapping the experiences and good counsel of all of you, particularly our host authorities and my colleague Ambassadors, some of whom I have already met. I am confident that with my team in the Embassy, we can work with all our partners, friends and well-wishers here in Germany, to achieve Ghana's foreign policy objectives, during my tenure as ambassador."
Present at the ceremony were the Dean of African Ambassadors to Federal Republic of Germany, His Excellency Jean-Marc Mpay of Cameroon,  fellow Ambassadors from other African countries, Officials and Representatives of the Federal Republic of Germany, Business Executives, Journalists as well as Ghanaian Traditional Chiefs in Germany, the Chief Imam, Pastors from Ghanaian Churches in Germany and Ghanaians from all walks of life who came from all over Germany.
Melissa Sheridan, ANA Diplomatic Correspondent & Musah Ibrahim Musah
Merken

Print Friendly